Mackay Precast Products provides Vancouver Island residents, for 12 months of the year, with an assortment of concrete patio stones, raised garden box panels, and concrete garden lawn edgings, all made locally here on Vancouver Island.
The next time you're in Nanaimo, stop by MacKay's and browse for ideas. Take home something truly unique to enhance your outdoor (or indoor) space.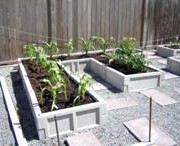 Concrete raised garden box panels are a versatile and eco friendly alternative to wood boxes which have to be replaced every 5+ years.
You can start with a basic 32" square 4 panel box or build a maze to grow your tasty vegetables or show stopping flowers.
The garden panels are a "one time" build but if you move, you can take them with you!
MacKay Precast Products manufactures wide variety of quality precast products such as: concrete BENCHES, concrete PICNIC TABLES, concrete PLANTERS, concrete LITTER CONTAINERS, concrete ASHTRAYS, concrete OUTHOUSES, and much more.
We ship our products throughout Canada and the United States (U.S.A.). We are proud to work closely with provincial & state agencies, cities, parks, hospitals, schools, golf courses, malls, contractors and corporations to provide quality, reliable and cost effective concrete solutions to their projects.
For more details on the complete line of MacKay Precast Concrete Products, please visit our Product Catalog pages.
Get contact information such as telephone number and email address from our Contact Us page.
Already know what you're looking for?  Please go straight to our Quote Form to submit your inquiry and our office staff will reply to you right away.